Uferhallen Berlin-Wedding
May 12th – July 16th 2023
Admission free!
Opening hours Tuesday – Sunday
12 am – 8 pm on days without dialogue programme
12 am – 10 pm on days with dialogue programme
Tue-Wed-Thu 6 – 6:30 pm dance | music | speech rehearsal pieces as solo or duo
Artists of the Berlin final
Artists:
Ravi Agarwal (IND), Marc Aldinger (G), Jennifer Allora & Guillermo Calzadilla (US|CU), Francis Alÿs (BEL|MEX), Néle Azevedo (BR), Joseph Beuys (G), Richard Box (GB), Jens Burde (G), Yacoov Chefetz (IL), Ines Doujak (A), Olafur Eliasson (B|DK), Emine Ercihan (G), Enrico Freitag (G), Susanne Gabler (G), Galerie für Landschaftskunst (G), Emiliano Godoy (MEX), Lola Göller (G), Dionisio González (E), Sonia Guggisberg (BR), Swaantje Güntzel (G), Hermann Josef Hack (G), Ilkka Halso (FIN), Cornelia Hesse-Honegger (CH), Edi Hirose (PE), Klara Hobza (CZ), Vincent J.F. Huang (TW), Alejandro Jaime (PE), Folke Köbberling | Martin Kaltwasser (G), Christian Kuhtz (G), Christin Lahr (G), Antal Lakner (HU), Sigalit Landau (IL), Jae Rhim Lee (KR|US), Till Leeser (G), Dana Levy (IL), Sarah Lewison (US), Marlen Liebau | Marc Lingk (G), Rudolf zur Lippe (G), Ma Yongfeng (CHN), Renzo Martens (NL), Ayumi Matsuzaka (B|JP), Lucia Monge (PE), Manish Nai (IND), Eliana Otta (PE), Shirley Paes Leme (BR), Dan Peterman (US), Alejandra Prieto (CL), Rebecca Raue (G), Dodi Reifenberg (IL|G), Pedro Reyes (MEX), Ariel Rojo (MEX), Gustavo Romano (AR), Michael Saup (G), Artist Collective SCHAUM (G), Michal Schmidt (G), Hannah Schneider (G), Dina Shenhav (IL), David Smithson (US|G), Robert Smithson (US), Superflex (DK), Jakub Szczęsny (PL), The Yes Men (US), Maria Vedder (G), Wang Jiuliang (CHN), Andreas Wegner (G), Natalia Wehler (G), Gal Weinstein (IL),  Xing Danwen (CHN), Yang Shaobin (CHN), Zwischenbericht (G)
New artists
Anne Dukhee Jordan (G), Vera Meyer (G), Vanessa Ramos-Velasquez (BR), David Brandstätter (F|G), Christine Henry (PT), Folke Köbberling (G), Roberto Uribe Castro (CO), Marcus Maeder (CH), Nele-Marie Gräber (CH)
Scientists (all G)
Prof. Dr. Vera Meyer, Dr. Norbert Höpfer, Dr. Susanne Schmitt, Cornelia Ertl, Dr. Manuel Rivera, Charlett Wenig und Johanna Hehemeyer-Cürten
New in Berlin
Dr. Charlett Wenig and Johanna Hehemeyer-Cürten, Max Planck Institute of Colloids and Interfaces. It is about the potential of bark in architectural applications
Prof. Dr. Vera Meyer, TU-Berlin Mushrooms as a great find for biotechnology, bioeconomy and architecture
Dr. Susanne Schmitt and Cornelia Ertl, haptic hortus, video on a Victoria water lily
Roberto Uribe-Castro, Rubber Sculptures and their history
Anne Dukhee Jordan, 'Wunderkammer' and a film about the colonial history of nutmeg
Vanessa Ramos Velasquez, Brazil, Berlin, researcher and performer: "My practice is about transfor- mation…. I invoke and evoke my indigenous ancestry, reassemble the fragmented body and learn from kinship (…). It is also about decolonial and anti-colonial artivism that connects micro-narratives and macro-history."
David Brandstätter, 'Freiheit', dance solo on cups (revival from 2013)
Christine Henry, Portugal, installation 'From the Beginning to the Anthropocene'
Marcus Maeder, artist and environmental scientist, Switzerland 'Il lamento della natura', makes drought stress of trees audible through bioacoustic recordings
Néle Azevedo, performance ice sculpture 'Suspended State'
'Klasse Klima UdK', open, autonomous and interdisciplinary group of students. Their aim is to transfer the climate crisis into teaching and design practice through experiments and real laboratories
The last video of Martin Kaltwasser before his death, Berlin Marathon in normal traffic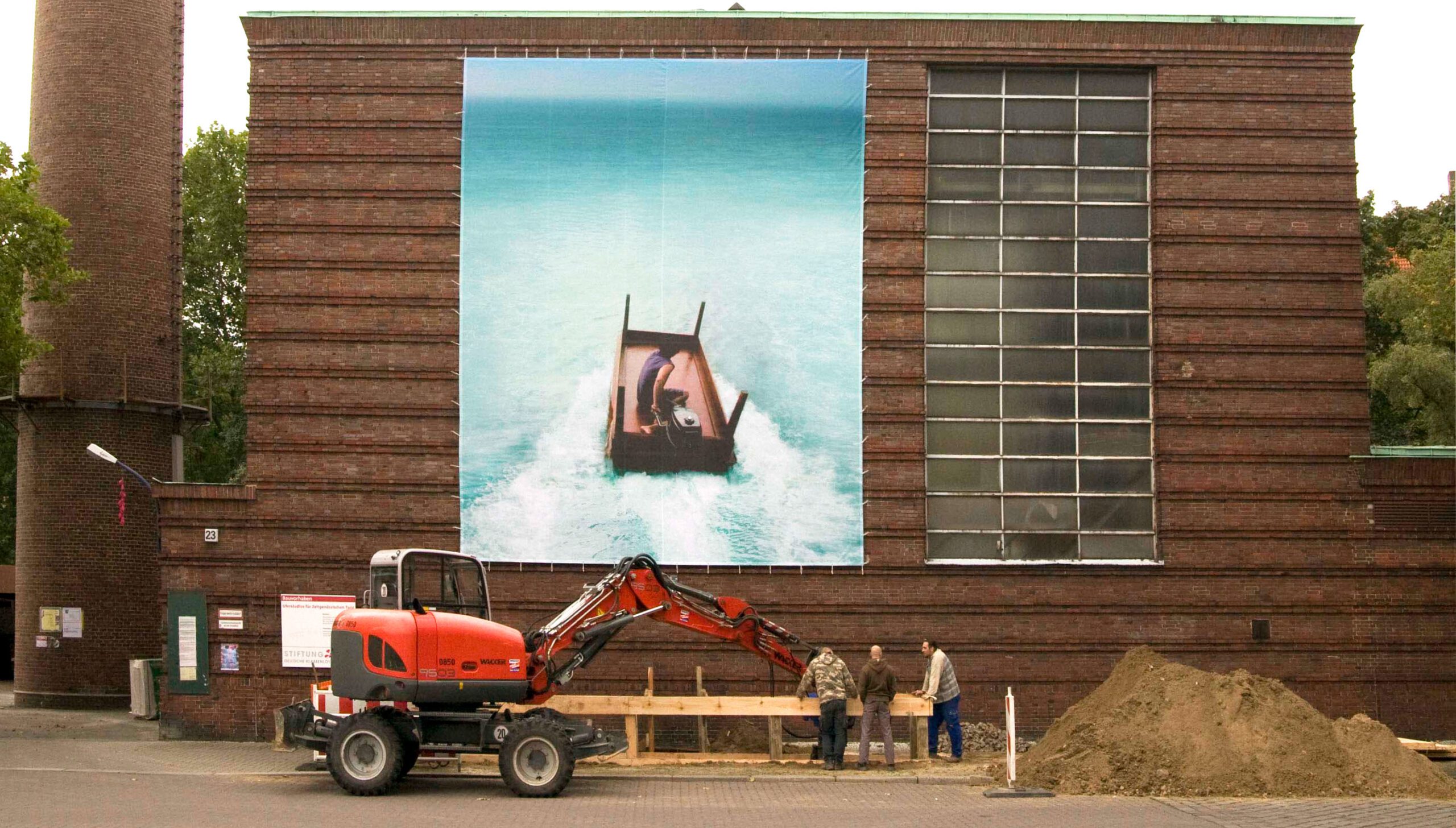 Focus of the current final station | Berlin
The preoccupation with the climate disaster has (has) increased significantly in art since the beginning of the exhibition in 2010, in the meantime programs for the operational ecological efficiency of artistic institutions are piling up in the political sphere. However, this support is only aimed at the institutions.
ZNE! On the other hand, from the beginning it was about expanding the content of the individual artistic resonance space, about (in order) to get involved with the means of art in transformative fields – from the city to material development, from climate theater to sustainable exhibition concepts – and the social perception and Expand imagination for transformation. It requires strengthening the imagination of a good life, sensual knowledge. This is exactly what aesthetics means.
There is an impressive number of currently 185 voices who, each from their own perspective, are demanding a fund for aesthetics and sustainability from politics in order to make artistic, scientific research and knowledge of movement permeable to one another. It needs its own conveyor for this. We draw from the reservoir of these voices as a basis for workshops, panels and lectures during the exhibition, as we will also continue to negotiate the need for a FÄN.
It has now become an undeniable fact that construction / building materials account for 40% of global CO2 emissions and this is currently being multiplied by the ruined Ukrainian places. In addition to the human tragedies, this is also an ecological one. The quantities of conventional building materials required for reconstruction will not be readily available. Alternatives to this are urgently needed, including those that involve the homeless.