Indien | Mumbai | 2012
07. Ausstellungsstation
05.02.2012 – 10.03.2012
Gallery Max Mueller, Studio X, Premchand Roychand Gallery, Project 88, Gallery Maskara
Die Ausstellung wird gezeigt im Rahmen des deutsch-indischen Jahres 2011-2012
Eröffnungen: Samstag 4. Februar 2012, 17 Uhr Gallery Max Mueller | 19 Uhr Studio X und Samstag 11. Februar 2012 | 17 Uhr Premchand Roychand Gallery | 19 Uhr Project 88 | Gallery Maskara
Kuratorin: Adrienne Goehler
expeditionen in ästhetik und nachhaltigkeit zeigen künstlerische Praktiken, die zur Erhaltung des Planeten beitragen, Einfluss auf bewusstes Konsumverhalten nehmen wollen und ökonomisch rentabel sind: zur nachahmung empfohlen! Gezeigt werden über 40 nationale und internationale Positionen in denen sich die Grenzen zwischen Kunst, Aktivismus und Erfindungen auflösen, und sich die Erfahrungen und Arbeitsweisen von Umweltinitiativen mit künstlerischen Herangehensweisen verbinden.
Nach der einjährigen Tour der Ausstellung durch Deutschland erreicht sie nun Mumbai. Im Anschluss wird zur nachahmung empfohlen! nach Addis Abeba, Äthiopien reisen, dann nach Peking, China in Kooperation mit den jeweiligen Goethe Instituten und der Kulturstiftung des Bundes. zur nachahumg empfohlen! wurde mit dem Mediensonderpreis der Deutschen Umwelthilfe und als Projekt der Werkstatt N des Rates für nachhaltige Entwicklung ausgezeichnet.
Aus Indien kommen hinzu:
Ravi Agarwal, Madhusree Dutta, Manish Nai, Sharmila Samant
Künstler:innen
Jennifer Allora & Guillermo Calzadilla • Néle Azevedo • Joseph Beuys • Richard Box • Ines Doujak • Adib Fricke • Tue Greenfort • Dionisio González • Henrik Håkansson • Cornelia Hesse-Honegger • Hermann Josef Hack • Ilkka Halso • Richard Welz • Folke Köbberling & Martin Kaltwasser • Christoph Keller • Christian Kuhtz • Christin Lahr • Till Leeser • Sarah Lewison • Antal Lakner • Jae Rhim Lee • Susanne Lorenz | Dr. Stephan Pflugmacher • Marlen Liebau | Marc Lingk • Renzo Martens • Ayumi Matsuzaka • Gerd Niemöller • Nana Petzet • Clement Price-Thomas • Dan Peterman • Miguel Rothschild • Dodi Reifenberg • Gustavo Romano • Otmar Sattel • Michael Saup • Dina Shenhav • Studio Lukas Feireiss und Tomorrow's Thoughts Today mit Luis Berríos-Negrón • Jakub Szczesny • Robert Smithson • Ursula Schulz-Dornburg • Superflex • Gudrun F. Widlok • Xu Bing • Xing Danwen • The Yes Men • Zwischenbericht • ZuhauseKraftwerk – Schwarmstrom
Ausstellungsorte
STUDIO X, Kitab Mahal, Fourth Floor 192, D N Road, Fort Mumbai 400 001
GALERIE MAX MUELLER, Max Mueller Bhavan, K. Dubash Marg, Kala Ghoda, Mumbai 400 001
PREMCHAND ROYCHAND GALLERY, Chhatrapati Shivaji Maharaj Vastu Sangrahalaya (formerly Prince of Wales Museum of Western India), 159/61 Mahatma Gandhi Road, Fort, Mumbai 400 023
PROJECT 88, BMP Building, Ground Floor, N.A. Sawant Marg, Colaba, Mumbai 400 005
GALLERY MASKARA, Warehouse on 3rd Pasta 6/7, 3rd Pasta Lane, Colaba, Mumbai 400 005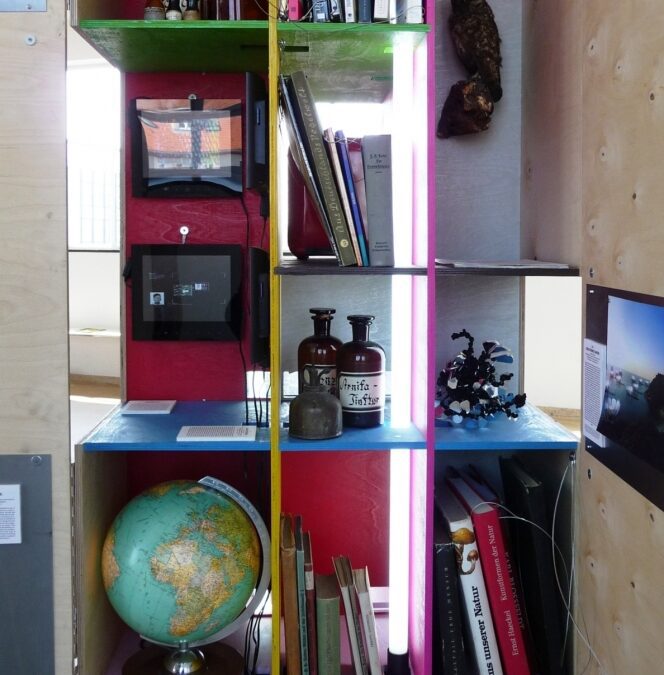 Die Bedeutung der Biodiversität – Lukas Feireiss 02.03.2012 – 18:30 Uhr Studio X, Kitab Mahal,...
read more
There are worlds of art to see – THE TIMES OF INDIA
There are worlds of art to see – THE TIMES OF INDIA
09.02.2012 , Pronoti Datta, TNN
»Examples to Follow! is a travelling exhibition spread across Galerie Max Mueller, Studio X, the Premchand Roychand Gallery and the lawns of the Chhatrapati Shivaji Maharaj Vastu Sangrahalaya, Project 88 and Gallery Maskara. Celebrating the sixtieth year of Indo-German friendship, art works related to climate change and sustainable living are showcased. One of the most arresting exhibits is Gudrun Widlock's Adopted, about an agency that finds African godparents for Europeans estranged from their families. Adopted began as a conceptual project and later, in a strangely futuristic turn of events, became a reality.«