Mexico | Puebla | 2013
11. Venue
17.10.2013 – 19.01.2014
Capilla del Arte – 2 Norte 6, Centro Histórico de Puebla
OPENING October 17th 2013, 7.30pm
In Mexico, 6 Mexican artists will complement the exhibition:
Aziza Alaoui , Francis Alÿs, Emiliano Godoy, Gustavo Lipkau, Pedro Reyes, Ariel Rojo
Artists
Aziza Alaoui (MAR | MEX), Ravi Agarwal (IND), Jennifer Allora & Guillermo Calzadilla (US | CU), Francis Alÿs (BEL | MEX), Néle Azevedo (BR), Joseph Beuys (GER), Richard Box (GB), Ines Doujak (A), Olafur Eliasson (DK), Galerie für Landschaftskunst (GER), Emiliano Godoy (MEX), Dionisio González (E), Sonia Guggisberg (BR), Hermann Josef Hack (GER), Ilkka Halso (FIN), Cornelia Hesse-Honegger (CH), Vincent J.F. Huang (CHN), Folke Köbberling | Martin Kaltwasser (GER), Christian Kuhtz (GER), Christin Lahr (GER), Antal Lakner (HU), Jae Rhim Lee (KR | US), Till Leeser (GER), Sarah Lewison (Gordon Matta-Clark Adaption) (US), Marlen Liebau | Marc Lingk (GER), Gustavo Lipkau (MEX), Rudolf de Lippe (GER), Ma Yongfeng (CHN), Petra Maitz (A), Renzo Martens (NL), Ayumi Matsuzaka (JP), Manish Nai (IND), Gerd Niemöller (GER), Shirley Paes Leme (BR), Dan Peterman (US), Clement Price-Thomas (US), Dodi Reifenberg (IL | GER), Pedro Reyes (MEX), Ariel Rojo (MEX); Gustavo Romano (AR), Michael Saup (GER) Ursula Schulz-Dornburg (GER), Dina Shenhav (IL), David Smithson (US), Robert Smithson (US), Superflex (DK), Jakub Szczesny (PL), The Yes Men (US), Maria Vedder (GER), Wang Jiuliang (CHN), Xing Danwen (CHN), Yang Shaobin (CHN), ZuhauseKraftwerk (GER), Zwischenbericht (GER)
The pictures of the construction and opening in Puebla can be seen on the ETF! Facebook page.
The accompanying program offers discussions, guided tours, bike tours and much more, the link leads to the Facebook page of Capilla del Arte UDLAP.
.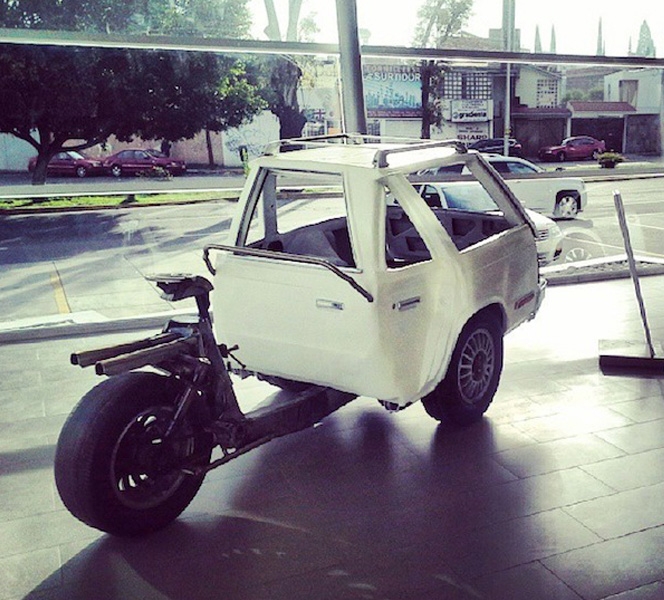 Puebla, Mexico, 22.10.2013 – 12:00 h "Cars into bicycles" by Martin Kaltwasser is shown as part of...
read more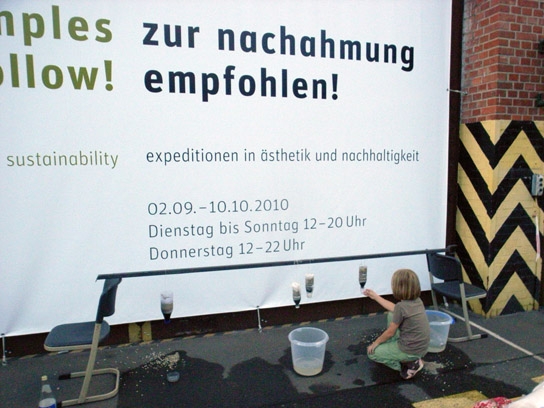 Researching Watching Participating on Family's-day 05.09.2010 – 15:00 hours Link:...
read more
Ökologische Kunst zur Nachahmung empfohlen – Subterraneos
Ökologische Kunst zur Nachahmung empfohlen
07.01.2014 , Subterraneos.com.mx
»Neue wissenschaftliche Studien haben bewiesen, dass die natürlichen Ressourcen des Planeten ausgebeutet werden. Man hatte vorhergesagt, dass die Temperatur 2 Grad um steigen wird, aber jetzt weiß man, dass sie sogar um 6 Grad steigen wird und somit die schlimmsten Konsequenzen, die wir uns vorstellen können, eintreten werden. Das ist einer der Gründe, weshalb sich die Industrie, die Wissenschaft und die Kunst vereinen, um neue Aktionen durchzuführen, die ein Bewusstsein und eine gemeinsame Verantwortung ins Lebens rufen, die auf der sozialen Notwendigkeit basiert.«
Kunst und Bewusstsein konvergieren in Puebla – elpopular
Kunst und Bewusstsein konvergieren in Puebla
07.01.2014 , elpopular.mx
»Die BesucherInnen können auf eine neue und zeitgenössische Weise die ästhetischen Sprachen mit der Problematik verbinden, die unseren Planeten zugrunde macht. Verschiedene Blickpunkte die auf das Selbe zielen: die Nachhaltigkeit. […] Von den AusstellerInnen muss man sagen, dass die Ausstellung die kulturelle und ästhetische Dimension der Nachhaltigkeit sichtbar machen, um auf diese Weise die offensichtliche Abnutzung des Begriffs entgegenzuwirken. Sie sucht ein Verständnis der Nachhaltigkeit zu erwecken, die als formend verstanden werden muss, ohne auf die Kunst und die Wissenschaft zu verzichten, da sie von ihnen lernen kann, in über Transformationen, provisorischen Lösungen, Modellen und Projekten zu denken. «